About Ardfry Imaging, LLC
Ardfry Imaging, LLC, is a privately held software company that specializes in advanced graphics solutions for professionals in the graphic arts, pixel arts, and web design industries. We also develop software solutions for professional photographers.
Management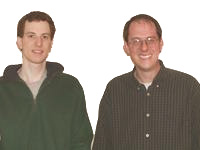 David Blake
Chief Executive Officer, Co-Founder
David has over ten years of experience in the software industry ranging from large consulting corporations to small software companies. David has a BS in Computer Science from the University of Michigan.
Ken Silverman
Chief Technical Officer, Co-Founder
Ken made his mark on the software world by developing a cutting-edge game engine when he was still in high school. Ken's interests range from developer tools to complex mathematical modeling to music. Ken is a graduate of Brown University and holds an ScB in Applied Math.
Company Location
The company operates in Ann Arbor, Michigan, with research and development in East Greenwich, Rhode Island.