View Adobe Photoshop PSD, Adobe Illustrator AI, and EPS Thumbnails on Windows 7
It is often much faster to use Windows Explorer to find the file you need than to launch an application.
Adobe Photoshop 7 was the last version to include support for thumbnails in Windows Explorer. In a post on the Photoshop Windows area of the Adobe Forums, an Adobe employee explained why this was removed.
"According to our status of bugs filed with Microsoft: the explorer extension "leaving files open" bug still is not fixed"
Chris Cox
In the years that have passed since this was removed from Photoshop, Microsoft has added more ways to view the images and information in files. Rather than waiting for Adobe and Microsoft to work out their complex relationship, you can simply install our codec and start viewing your Adobe format files throughout Windows.
Now you can find your files instantly with the PSD codec by Ardfry Imaging, LLC.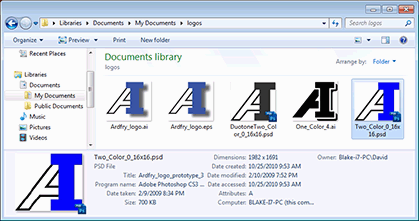 Windows Explorer with thumbnails provided by the Ardfry PSD codec. (click for larger image)

Download the free 15-day trial of the CODEC today and view PSD, AI, and EPS thumbnails in Windows Explorer.
You can also purchase a license for just $19.95.
Enabling thumbnails in Windows Explorer
Thumbnail images can be turned off by changing a number of settings. Performance preferences can turn off thumbnail generation, for example. To enable thumbnails in Windows Explorer, do the following. In Explorer under the Organize menu, there is a menu item Folder and search options. Under the View tab the option, make sure the "Always show icons, never thumbnails" item is not checked.
Disabling icon overlays for thumbnails in Windows Explorer
Icon overlays provide a way to distinguish file types that contain the same image. An alternative way is to rely on the file extension. To disable the icon overlay on thumbnails so that none of the preview image is covered on the preview pane, go to the the Organize menu in Windows Explorer, Folder and search options, under the View tab and make sure "Display file icon on thumbnails" is unchecked.