Canon RAW CR2 CODEC for 64-bit and 32-bit Windows
View metadata, previews, and thumbnails of Canon RAW files
---

Download
the free 15-day trial of the CR2 CODEC today and use Windows to...
Preview Canon RAW format (CR2) images in Windows Explorer, Windows Live Photo Gallery, Windows 8 Media Center, and Windows 7 Media Center
View thumbnails of CR2 files
Search and view metadata
The CR2 codec supports the latest camera bodies and models from Canon, including the EOS 6D, EOS 5D Mark III, EOS 70D, EOS Rebel T5i, EOS Rebel T5, G16, PowerShot G1 X, and PowerShot S120.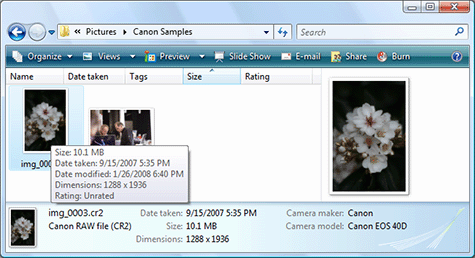 ---
Notes
Any previous version of the codec should be uninstalled before installing the new codec
If using the embedded JPEG preview the width and height displayed will be that of the embedded preview image
Even if we can't decode the RAW data for your camera model, we will use the embedded JPEG preview. This should allow the codec to be useful for the latest models immediately without waiting for an update from us.
The 32 bit MSI and 64 bit MSI files that are included in the installer are available for administrators who need more installations options than are available in the default installer. On 64 bit platforms you should install both 32 bit and 64 bit codecs if you need to support 32 bit applications that use WIC. The Setup application above does installs both.
Registration
If you purchased a license, then the registration information can be entered in the Preferences application in the CR2 Codec by Ardfry Imaging program group.
Build History
Stay up to date on the lastest versions of our software by following us on
Twitter
and
Facebook
.
Version 1.0.2.0 February 26, 2014

Fixes issues with generating large previews in the Windows Explorer Preview Pane on high resolution monitors.

Version 1.0.0.13 May 1 2012

RAW Processing update for the PowerShot S100

Version 1.0.0.12 June 30 2011

Improved error handling of corrupt JPEG preview images
Display version in Preferences, Control Panel

Version 1.0.0.11, February 23, 2010

Add support for EOS 1Ds .tif files

Version 1.0.0.10, December 15, 2009

RAW processing update for EOS 7D, Powershot G11, and EOS 5D

Version 1.0.0.9, October 3, 2009

Support legacy thumbnail apis on Vista and later for applications like Total Commander
Fix: Issue with generating thumbnails on Windows 7
Fix: Issue with searches CR2 files in Pictures with Windows Desktop Search

Version 1.0.0.8, September 5, 2009

Fix: issue with generating thumbnails when file is viewed for the first time from a 32 bit app on 64 bit system
Fix: crash caused by some TIFF files

Version 1.0.0.7, April 16, 2009

Fix: issue with generating thumbnails for CR2 files from the G10

Version 1.0.0.6, April 7, 2009

Fix: crash on Core i7 processor

Version 1.0.0.5, March 16, 2009

Fix: Memory leak
Improved support for XAML apps like iTag

Version 1.0, Build Date Feb 16, 2009

10x to 100x faster initial load of thumbnails in Windows Explorer on Vista
Rendering of RAW data for select models, JPEG preview for all others

Beta 2, Aug 27, 2008

Support 32 bit applications on 64 bit Windows
Improved support for XP Pro 64
Simplified installer

Beta 1, May 19, 2008

Fix memory leak in shutdown code and address compatibility issue with Ardfry NEF codec

Beta 0, April 2008

Initial Release

Download the free 15-day trial of the CR2 CODEC today.