View Thumbnails for EPS, Adobe Illustrator AI, and InDesign INDD files in Directory Opus
---
System Requirements

Windows 10
Windows 8
Windows 7
Windows Vista

Ardfry PSD Codec
Directory Opus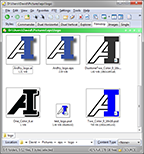 Thumbnail and Tiles Views in DOPus

Illustrator's File Open Dialog Box

Download
plugin for Directory Opus with the PSD Codec.
The plugin uses the
Ardfry PSD Codec
to provide
thumbnails of EPS and AI files in Directory Opus
on Windows 7 and Windows Vista.
Build History
Stay up to date on the lastest versions of our software by following us on
and
Facebook
.
1.1 13 Dec 2011

Integrated with installer for PSD codec.

1.1 17 May 2011

Add support for INDD and PSB files
Add support for DOpus preview pane

1.0 10 November 2010